The Litchfield Historical Society is thrilled to announce the acquisition of a previously unpublished letter from U.S. Supreme Court Chief Justice John Marshall to Judge James Gould, instructor at the Litchfield Law School, in which Marshall provides feedback on Gould's book about pleadings.
The Litchfield Law School was the first formal school of law in the United States offering a vocational curriculum for future attorneys. It educated two vice presidents, three United States Supreme Court Justices, twenty-eight United States Senators, fifteen governors, and 97 members of the United States Congress, along with men who held countless local and state positions. The school's significance in educating those who would write, interpret, and enforce the laws of the new nation is hard to overstate.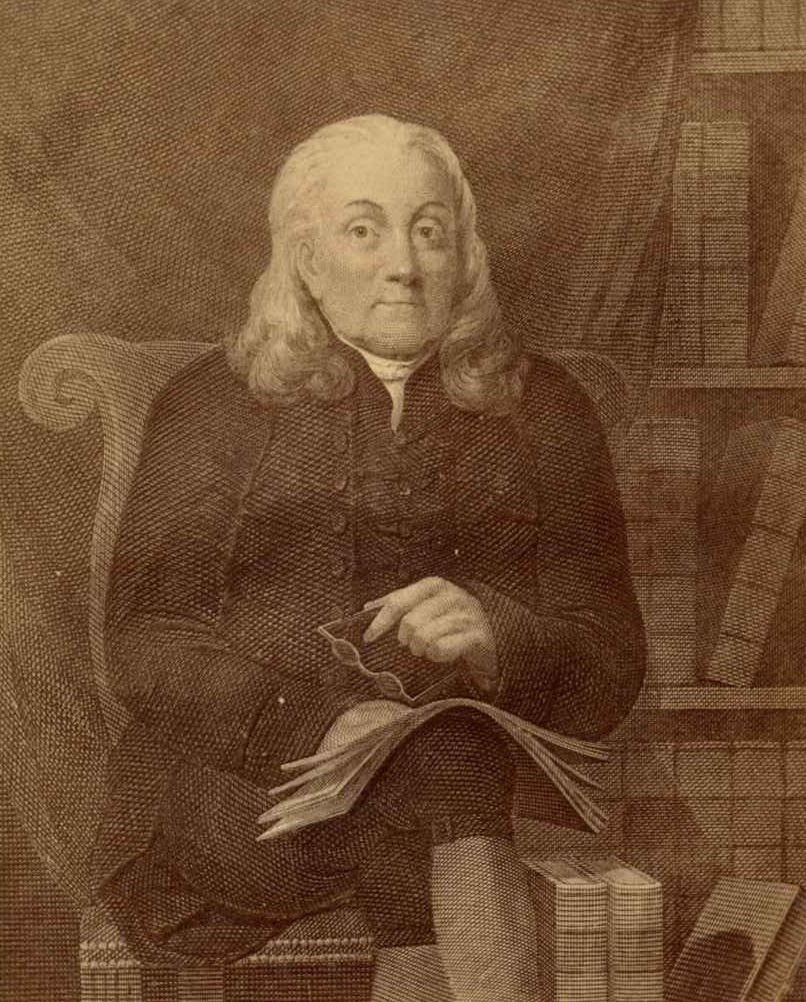 The Litchfield Law School was founded by Tapping Reeve who welcomed his first student, Aaron Burr, in 1774. By 1784, Reeve had begun teaching through a system of lectures rather than the standard practice of students "reading law" in an office. He constructed a small, one-room schoolhouse near his home for the purpose. In 1798, he hired former student James Gould to assist with teaching when he was elected to the Connecticut Supreme Court. James Gould built a second lecture room near his home and, in partnership with Reeve, continued the lecture method of teaching.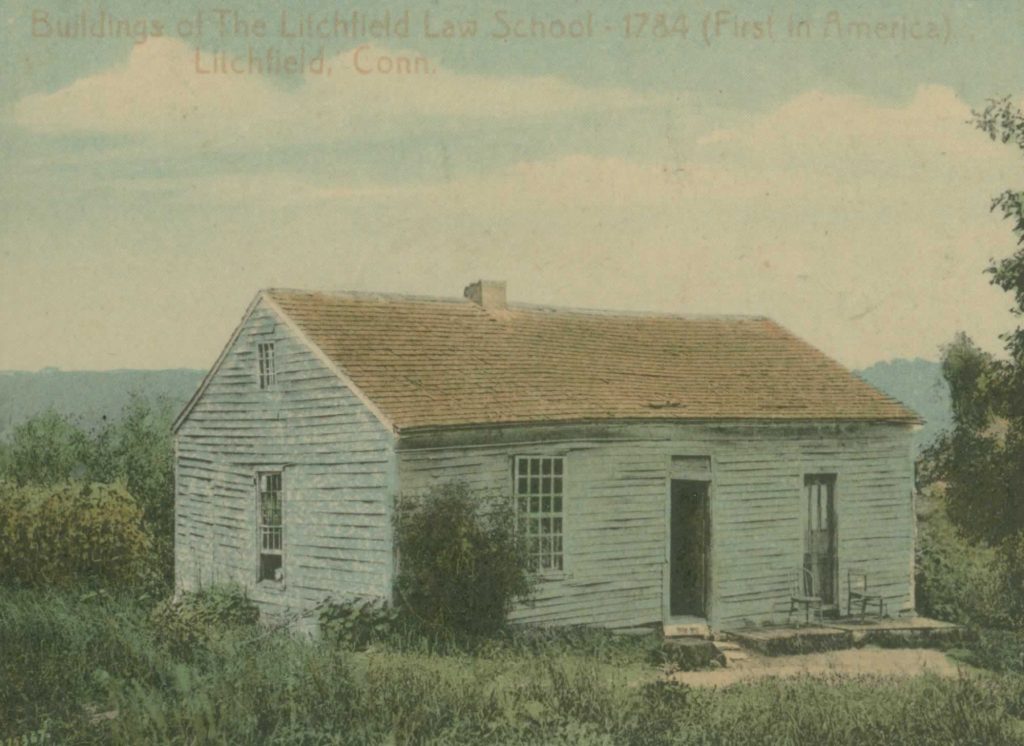 Upon Reeve's retirement in 1820, Gould took over the school entirely. In 1832, a year before he closed the school, he published A Treatise on the Principles of Pleading in Civil Actions.
The letter from Chief Justice Marshall is on this topic. He wrote,
"I have now read it through with advantage to my self, and with some surprise at finding that a subject which has employed so many pens should still admit of being presented in a form that may make the book an acquisition certainly to the law student, and indeed to the profession. You have well arranged the matter belonging to the subject; and have succeeded in your desire of presenting it "as a system of consistent and rational principles, adopted with the utmost precision to the administration of justice, according to uniform rules."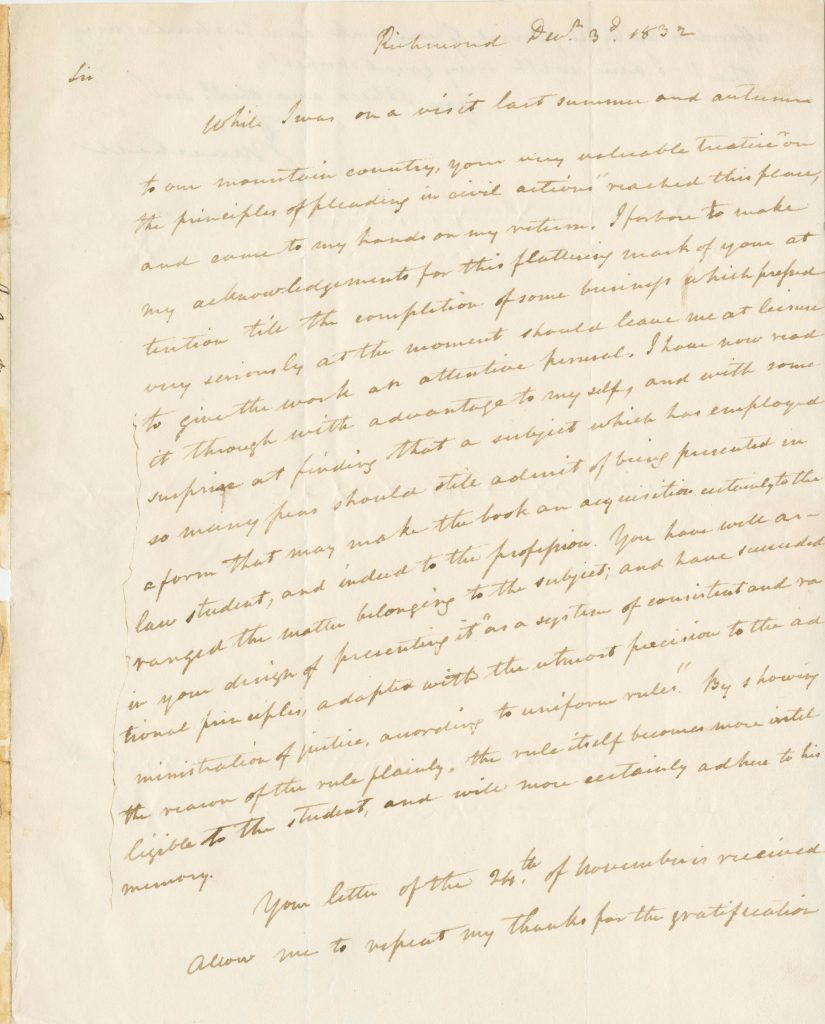 Whitney Bagnall, former Law Librarian at Columbia University and expert on Litchfield Law School student notebooks said,
"John Marshall wrote a thoughtful letter about James Gould's Treatise on the Principles of Pleading in Civil Actions, predicting it as "an acquisition certainly to the law student, and indeed to the profession." Marshall recognizes its system of organization and clear presentation of principles and rules. Gould was the preeminent lecturer on the topic of pleas and pleadings at Litchfield. If John Marshall had been a student at the law school, he could have experienced Gould's thorough and impressive treatment of this fundamental course in legal education. As it is, he admits reading Gould's printed work "with advantage to myself," high praise from the Chief Justice."
To learn more about the Litchfield Law School and its students, please visit https://ledger.litchfieldhistoricalsociety.org/ledger/. To read the student notebooks and compare topics within them, visit the Yale Law School Lillian Goldman Law Library page https://documents.law.yale.edu/litchfield-law-school-sources.